---
Join our list
Subscribe to our mailing list and get interesting stuff and updates to your email inbox.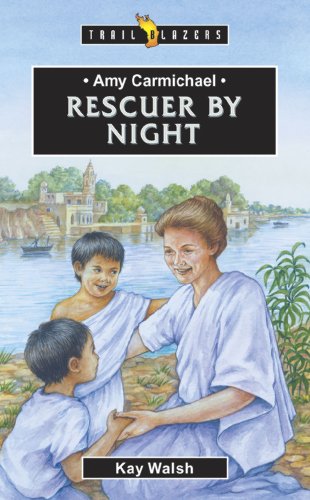 Author(s):
Kay Walsh
Publisher:
Christian Focus Publications
Price:
$2.99
(Mar 8-9)
'I can't see! It's dark everywhere. What place is this? Where am I?'
Jeya was only four years old and was terrified as she tried to peer about the dark and gloomy temple. Between the pillars was a huge stone body. She shivered when she saw its face. This, she knew, was Kali, the goddess of death and destruction.
Why was Jeya there? Who would leave a little girl in the dark like that? Certainly not the God of love – he sent a woman to rescue these children from destruction – Amy Carmichael. And she had been a little girl herself once a little girl with long dark hair, and deep brown eyes. Once she had even begged God to make them blue – but he hadn't. And as Amy leaned over to pick little Jeya up and rescue her from a life of temple-slavery – she was very glad that God hadn't listened to her prayers. Blue eyes were not the eyes of India – but Amy's brown eyes were.
"Amy Carmichael is one of those women who should be every young girl's heroine. Her childhood escapades and journey of faith are wonderful stories in their own right. Her adventures in India are the concluding part to this extraordinary life."
Catherine MacKenzie ~ Author and CF4K Editor
If you like this, you'll love this: When buying the Amy Carmichael Trailblazer for 9-14 year olds check out the Amy Carmichael Little Lights for 4-8 year olds. Amy Carmichael: Can brown eyes be made blue? A fully illustrated children's book for younger readers. Amy Carmichael also features in Ten girls who changed the World by Irene Howat.
Catherine MacKenzie ~ Author and CF4K Editor
---
In this grab bag we have 4 e-books from Christian Focus Publications which were written by Helen Roseveare. The prices that the publisher has provided are under each ebook cover.
[table "3796" not found /]
---
Author(s): Irene Howat
Publisher: Christian Focus Publications
Price: $2.99

'You could become the greatest living painter. Your paintings would be treasured for ever.'Those were the words Lilias Trotter heard from John Ruskin, one of the world's most established art critics. She had to make a choice between her talent and her calling. Both were gifts from God. In May 1879 Lilias knew what she should do. God's work for Lilias was in the desert land of Algeria. Palm trees and camels replaced lampposts and horse drawn carriages. The desert was her home, its people her friends and its Creator her reason for life.
---
Author(s): Catherine Mackenzie
Publisher: Christian Focus Publications
Price: $3.00

What made an ordinary monk become a catalyst for the Reformation in Europe in the 1500s? What were the reasons lying behind his nailing of 95 theses against the practice of indulgences to the door of the Schlosskirche in Wittenberg in 1517? Why was Martin Luther's life in danger? How did his apparent kidnapping result in the first ever New Testament translated into the German language? Discover how a fresh understanding of the Scriptures transformed not only his own life but had a huge impact upon Europe.
---
Author(s): William Boekestein
Publisher: Christian Focus Publications
Price: $2.99

By the end of his brief life Ulrich Zwingli would change the religious landscape of his home and the world. It wasn't until the last few years of his life that he became a reformer. He fought for truth and righteousness with his mind and pen, he fought for lost souls to hear the good news of Jesus Christ, and at the age of forty-seven, as an army chaplain, he was killed on the battle-field. The Shepherd Warrior, Ulrich Zwingli, fought the good fight.With his last strength he voiced his victory: "They can kill the body but not the soul!"
---
---
Gospel eBooks is a participant in the Amazon Services LLC Associates Program, an affiliate advertising program designed to provide a means for sites to earn advertising fees by advertising and linking to amazon.com. View our
Privacy Policy
.