---
Join our list
Subscribe to our mailing list and get interesting stuff and updates to your email inbox.
Author(s): David W. Jones
Publisher: Kregel Publications
Price: $1.99

Be faithful in your giving and God will reward you financially. It's not always stated that blatantly but the promises of the Prosperity Gospel–or the name-it-and-claim-it gospel, the health-and-wealth gospel, the word of faith movement, or positive confession theology–are false. Yet its message permeates the preaching of well-known Christian leaders: Joyce Meyer, T. D. Jakes, Joel Osteen, Creflo Dollar, Kenneth and Gloria Copeland, and many more.
The appeal of this teaching crosses racial, gender, denominational, and international boundaries. Why are otherwise faithful Christians so easily led astray? Because the Prosperity Gospel contains a grain of biblical truth, greatly distorted.
For anyone who knows that Prosperity Gospel theology is wrong but has trouble articulating and refuting the finer points, this concise edition contains all the robust arguments of the hard-hitting original edition in a shorter, more accessible form.
---
Author(s): Elmer Towns & David Earley
Publisher: Destiny Image Publishers
Price: FREE (Ends Aug 31)


Praying for Your Job-Prosperity, Fulfillment, Happiness is a timely book that provides encouragement, inspiration, and motivation for Christians who:
Have lost their job.
Need a job.
Are facing the possibility of losing their job.
Are dissatisfied at work.
Question the authority of a "rotten" boss.
Have questions about changing jobs.
Are looking forward to retirement.
In these economically stressful and high-unemployment times, Praying for Your Job brings solutions to the reality of the circumstances directly into the hands of those who are going through them-you. The two authors have a smoothly blended voice that gives readers everything they need to deal with all aspects of employment, unemployment, résumés, interviews, financial guidelines, and the like-all wrapped up with peace-of-mind scriptures supporting every clearly presented principle.
An inspirational yet very practical book from which every employed Christian or recently unemployed Christian can glean wisdom.
---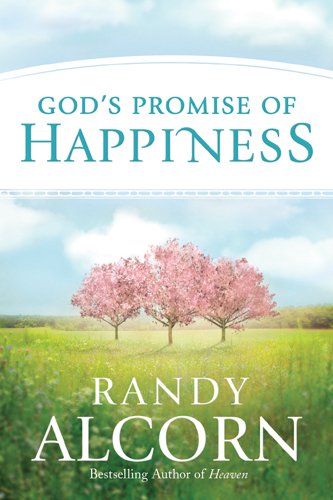 Author(s): Randy Alcorn
Publisher: Tyndale House Publishers
Price: $2.84

Think God doesn't want you to be happy? Think again.
We know that we will experience unimaginable joy and happiness in Heaven, but that doesn't mean we can't also experience joy and happiness here on earth.
In God's Promise of Happiness, bestselling author and noted theologian Randy Alcorn shares select passages and scripture from his latest hardcover release, Happiness, that provide insight, wisdom, and proof positive that God not only wants us to be happy, he commands it!
---
---
Gospel eBooks is a participant in the Amazon Services LLC Associates Program, an affiliate advertising program designed to provide a means for sites to earn advertising fees by advertising and linking to amazon.com. View our
Privacy Policy
.