---
Cultural Apologetics & Engagement (2 E-Books)
We're sorry but you missed this offer. It is no longer free or a deal.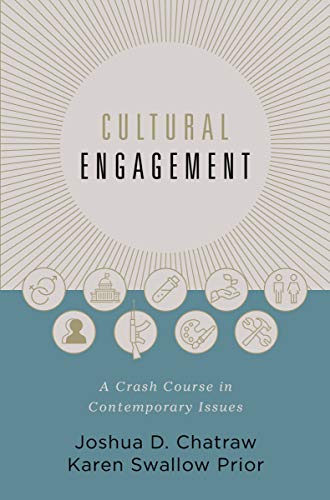 Cultural Engagement: A Crash Course in Contemporary Issues
Author(s): Josh Chatraw & Karen Swallow Prior
Publisher: Zondervan Academic
Price: $4.99  (Ends Sept 6)


How should Christians approach important contemporary issues like war, race, creation care, gender, and politics?
Christians in every culture are confronted with social trends and moral questions that can be difficult to navigate. But, the Bible often doesn't speak directly to such issues. Even when it does, it can be confusing to know how best to apply biblical teaching.
In Cultural Engagement: A Crash Course in Contemporary Issues authors Joshua D. Chatraw and Karen Swallow Prior first offer a broadly accessible framework for cultural engagement and then explore specific hot topics in current Western culture including:
Sexuality
Gender Roles
Human Life and Reproduction Technology
Immigration and Race
Creation and Creature Care
Politics
Work
Arts
War, Weapons, and Capital Punishment
Featuring contributions from over forty top thinkers, proponents of various views on the specific topics present their approaches in their own words, providing readers an opportunity to fairly consider options.
Unique in how it addresses both big-picture questions about cultural engagement and pressing current issues, Cultural Engagement provides a thorough and broad introduction useful for students, professors, pastors, college ministers, and any believer wanting to more effectively exercise their faith in the public square.
---
Cultural Apologetics: Renewing the Christian Voice, Conscience, and Imagination in a Disenchanted World
Author(s): Paul M. Gould
Publisher: Zondervan Academic
Price: $4.99 (Ends Sept 6)


The post-Christian world we inhabit today presents us with a mundane and disenchanted view of reality. Under the sway of materialism and science, we have been left with a way of seeing, thinking, and living that has no place for beauty and wonder. We now live in a world bereft of magic and mystery.
Many–including many Christians–no longer perceive the world in its proper light. As a result, the Christian imagination is muted. Moreover, the church has grown anti-intellectual and sensate, out of touch with the relevancy of Jesus and how to relate the gospel to all aspects of contemporary life. As a result, the Christian voice is muted. In this age Christian wholeness remains elusive, blunting the church's ability to present a winsome and compelling witness for faith. As a result, the Christian conscience is muted.
Cultural Apologetics addresses this malaise by setting forth a fresh model for cultural engagement, rooted in the biblical account of Paul's speech on Mars Hill, which details practical steps for reestablishing the Christian voice, conscience, and imagination. Readers will be equipped to see, and help others see, the world as it is–deeply beautiful, mysterious, and sacred.
With creative insights, Cultural Apologetics prepares readers to share a vision of the Christian faith that is both plausible and desirable, offering clarity for those who have become disoriented in the haze of modern Western culture.
Gospel eBooks is a participant in the Amazon Services LLC Associates Program, an affiliate advertising program designed to provide a means for sites to earn advertising fees by advertising and linking to amazon.com. View our
Privacy Policy
.