---
Uncommon Health: 21 Days to Physical Healing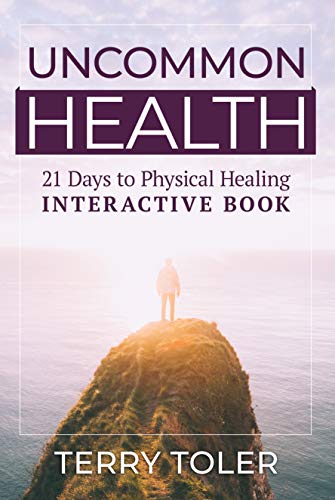 Author(s):
Terry Toler
Publisher:
 N/A
Price:
$4.99
In the spiritual realm, divine health is an absolute right of every Christian.
In the physical, many still struggle with pain, sickness, and premature death. This twenty-one-day interactive workbook from best-selling author, Terry Toler, provides the reader with a new approach to physical healing. It takes the reader on a compassionate journey of discovery, as it answers the following questions:
◆ Is it okay to go to doctors?
◆ What should I do if I'm not healed?
◆ Do I have enough faith?
◆ Does God really want to heal me?
The Scripture says the believer is transformed by the renewing of the mind. This in depth-book, before only available online, has helped thousands experience the transformational power of God to heal their lives.
What others are saying:
"Revolutionary!"
"We aren't being taught this in churches today."
"This is the most practical and marvelous explanation of healing I've ever read."
"This book is going beyond just learning something. It's going to change lives!"
Gospel eBooks is a participant in the Amazon Services LLC Associates Program, an affiliate advertising program designed to provide a means for sites to earn advertising fees by advertising and linking to amazon.com. View our
Privacy Policy
.