---
The Pied Piper: Is John Piper and New Calvinism Destroying the Church?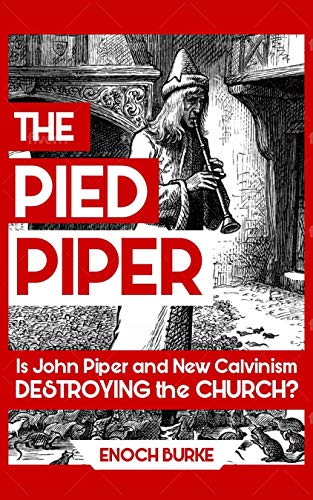 Author(s):
Enoch Burke
Publisher:
Burke Publishing
Price:
$3.99

By the author of The Hedonism and Homosexuality of John Piper and Sam Allberry
Martin Luther once said, "There is great danger in speaking of the things of God in a different manner and in different terms than God Himself employs."
This book takes a scriptural look at John Piper, whose influence over the church in the past three decades has been immense. The author is a young Chistian who once read Piper's works and was captivated by the popularity and success of the movement which Piper is the undisputed father of, New Calvinism.
Piper's greatest impact has been on the beliefs and actions of Christian youth. Famed for his support of the well-known Passion Conference in Atlanta, Georgia, Piper's philosophical doctrine of Christian hedonism (seeking pleasure in God) has enamoured hundreds of thousands of young people. His teaching has led to new attitudes on Christian holiness, sexual sin and Christian witness in the public square.
For years now, Piper has been a controversial figures in church circles. Few are willing to challenge his authenticity, despite glaring inconsistencies in his life and doctrine. This book examines the doctrine and fruits of John Piper, in the context of the demise in true holiness in the church today.
The Author
Enoch Burke holds a Bachelor of Theological Studies (TNARS), a Masters in Education, and a BA in History and Politics (NUI Galway). He is the author of The Hedonism and Homosexuality of John Piper and Sam Allberry: The Truth of Scripture (Burke Publishing, 2020).
Enoch divides his time between Castlebar in the West of Ireland and the Irish Midlands. He has taught at second-level for over 10 years and is a former Auditor of the NUI Galway Christian Union.
Posted September 27, 2021
You might also like these deals:
Gospel eBooks is a participant in the Amazon Services LLC Associates Program, an affiliate advertising program designed to provide a means for sites to earn advertising fees by advertising and linking to amazon.com. View our
Privacy Policy
.